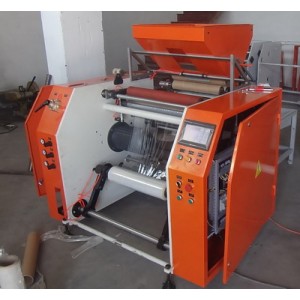 Full automatic machine designed for the repid rewinding of stretch film from jumbo roll into small rolls. The layout and operation make it user friendly and ideal for volume production. A skilled operator is not required.
Both for stretch & cling film rewinding.
1- Auto rewinding max. machine speed at 800 Mts/min
2- High production rate and quick change over
3- Fully automatic cycle with Programmable Logic Controller (PLC) control
4- Paper core to be ordered from 1-3 inch.
5- Free tension rewinding, No stretching occurs while rewinding
6- Guarding and controls CE approved
Model

AKDRW-500

AKDRW-600

AKDRW-700

Film width

280-500mm

280-600mm

300-720mm

Rewinding width

280-500mm

280-600mm

300-720mm

Max. diameter of Jumbo roll

400mm

400mm

400mm

Max. diameter of Rewinded roll

300mm

300mm

300mm

Rewinding speed

900m/min

900m/min

900m/min

Winder exchanging

Automatic

Core size of unwinder

3"

Core size of rewinder

1-3"

Conveyor & stacker

Option device